STEVESTON BUSINESS TO BUSINESS E-NEWSLETTER


This FREE e-newsletter is published by Sunor Enterprises Ltd. throughout Steveston on a monthly basis. It includes New Businesses, Community Events and news of important "Happenings" in our community. If you would like to advertise a sale, your new business or any other community business events, send us an email at sunor@steveston.bc.ca . We will include it as space permits. We reserve the right to refuse any information deemed inappropriate.

If you would like to receive the newsletter by email, monthly, just send your email address to sunor@steveston.bc.ca and we will send you the latest happenings and more each month.

Send us your feedback!
This E-Newsletter has been published since 2000 and this site continues to have traffic increasing each month. We are looking for feedback. Your input, as a reader, is very important to the success of this newsletter. It's intent is to keep the community working together. We would appreciate if you could take the time, and we welcome all questions, comments, or criticisms at:sunor@steveston.bc.ca or Tel/fax: 604-275-9452


NEW BUSINESSES and BUSINESS HAPPENINGS IN THE COMMUNITY

---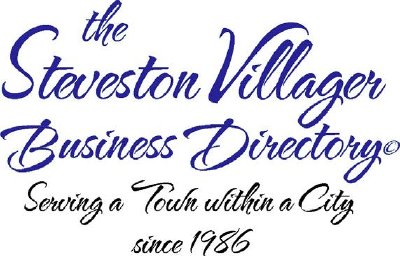 WINTER 2009/10 ISSUE
IS NOW BEING DISTRIBUTED, LOOK FOR IT IN
YOUR MAILBOX
Many thanks to the business below who
participate! Please show them your support,
...without them there would be no Community
Business Directory for Steveston!
Bare Basics
Bayou Brewing Club
Buck & Ear Bar & Grill
Budget Appliance Centre
Buttons & Soles
Clothes Encounters
Cool Secret Spa
Dave's Fish and Chips
Drs. Michele & Doug Neilsen
Focus Pilates
From Seeds to Fashion
Gabriela's Movement Studio
Gift Sense
H2O Hair & Nail Co
Healing River Acupuncture Centre
Holiday Inn Express Hotel & Suites
Jazzercise
Jet Lag Boutique
John Yap, MLA Richmond
Laara's Vacuums
Louwin Management Ltd. Property Mgmt.
Macdonald's Realty-Dolores Werk
Mardon & Campbell Insurance Ltd
MCI Medical Clinics Inc.
MediArt Solutions Inc
Moncton Dental,
O'Hares Pub & Bistro
Pure Water Shoppe
Radiant Tanning
Remax - Larry Biggar
Remax - Sean Lawson
Seaside Marketing
Shizen Wellness
Soo Jerky
Stepin' Out
Steveston Coffee Company
Steveston Cookie Company
Steveston Hotel
Steveston Painting
Steveston Village Ortho/Sports Physio Clinic
Steveston Village Yoga
Style Studio Decorating Co
SuperGrocer-Pharmacy,Bakery,Deli
Sunor Enterprises Ltd, Publisher
The Beatmerchant
The Point Restaurant
TravelBoecker

These are the top most popular 14 pages on the Steveston Community Website, www.steveston.ca
Are you listed on the any of the pages below??
/map.html
/activities.html
/businessesnew2.html
/calendar.html
/directions.html
/bus_linxs.html – Are you linked here yet??
/reviews.html
/newsletter.html
/photos.html
/villager.html
/faq.html
/services.html
/restaurants.html
/online/hls.html (Henderson Livingston Stewart hosted site)
Give your business the Gift of Connection in 2010 at, www.steveston.ca
BEATMERCHANT
Hi Folks, New in this month.

George Best, Monty Python, Coronation Street, Frank Zappa, Liverpool, Manchester United, Beatles, Bob Dylan, carry On Christmas capers, Wycliffe, Rolling Stones, Cliff Richard, Dave Clark 5, Guinness.
Where The Action Is !
DROP BY AND PICK UP A $2.00 OFF COUPON.
Merry Christmas Everyone
Frankie Neilson
The Beatmerchant
604 204 0044
STEVESTON SMILES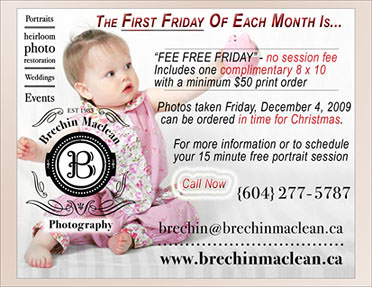 CHOCOLATE LOVER CAKES
Made to order Creative cakes for all occasion.
1-3891 Chatham St. Richmond BC
Tel. 778 297 5955
Open Tuesdays to Saturdays, 10-5pm
ART COMMISSIONS BY LOCAL ARTIST
Using high-quality materials and custom-sized canvases, I will work with you to create an original piece of art for your home, or to give as a special gift. Please contact me for details.
www.jodieblaney.com


New stock arriving weekly great deals for day care and back to school! PRICE GUARANTEE -
store Hours: Monday - Saturday 9:30 a.m. - 5 p.m.
OPEN SUNDAYS 1
Come Shop Where The Elves Shop!
The Clothes Encounter Child and Baby Boutique is stocked with all kinds of special treasures for your loved ones!
Come on in see what were up to this holiday season....you won't be disappointed!
We also have a full line of UV wear for all your holiday needs!
Mention you saw this ad and we will take 10% off your purchase!
The Clothes Encounter proudly supports MOMPRENEURS" and their products, Visit our store in beautiful Steveston
3820 Moncton Street, Richmond, BC (Steveston)
Tel 604.271.0310
email: contact@theclothesencounter.com
THE PAMPERED CHEF
Visit me at Richmond Hospital Dec 4th! Two tables of Pampered Chef goodies for you to purchase!!
Support your local Hospital and Christmas shop at the same time! 8am to 4pm See you There!

Pamela Stavenes
The Pampered Chef
Independent Director

SHOP the OUTLET for 40% -70% off!!!
Go to my website www.pamperedchef.biz/pstavenes
Click on Order Products then click on Individual Order - Click on Outlet at the bottom of list
Check back often as items change frequently!

November 28, 2009, students from Richmond Music School will play at Winter Wonderland at Richmond City Hall, at 1-2 p.m. and 2:30- 3:30 p.m.
December 12, 2009, Richmond Music School presents Ensemble Concert, at the school, 11371 No. 3 Road, Richmond. Students and staff will be playing wonderful music together. 7:30 p.m. All are welcome to attend.
Steveston Music and Arts is looking for new talents!!! Register for piano, violin, cello, bass, guitar and voice lessons anytime. For inspiring actors: join our Acting Studio every Tuesday night. For intellectuals: become a part of our famous "Chess Club" every Thursday night!
Steveston Music and Arts
#140-6231 London Road
Richmond BC V7E3S3
Phone: 604-809-5730
modusmusic@hotmail.com
http://www.mmcpiano.com

PANTYBYPOST.COM - is an online subscription service to get panties every month in the post! We offer good old-fashioned customer service, custom packages, a Bridal Line, Signature Line and Plus Size Line. Economical, fun and sassy. Choose your mood, show your style, wear our panties…by post.
Now featuring an eco friendly men's line, Briefs in a Box!
Make the postman blush!
www.pantybypost.com
HEARTS GIFT SHOP AND VIDEO RENTAL -
Hearts is a delightful little shop tucked away on 1st Avenue between Chatham and Moncton. This shop has a wide variety of gifts including jewelry, cards and all sorts of lovely trinkets. There is sure to be something for almost everyone on your list. Hearts also has videos and DVDs for rent at low prices. A percentage of all profits get sent to Thailand every month for various projects helping tsunami and AIDS victims. In fact, Hearts offers 14 day adventures though different parts of Thailand. Experience the sights and culture while touring and sight-seeing with Nan, the store owner and leader of these projects, as well as participate some humanitarian work. Stop by Hearts next time you are strolling through Steveston to take a look around, you never know what you'll find.
THE COMPUTER TUTOR - If I can't fix it, it ain't broke!
Ken is a local computer technician who has been serving the friendly folks of Steveston since 2000. Relying on word of mouth recommendations, his clientele has steadily grown in the last 9 years. Whether you need an upgrade, a complete installation, or any other form of assistance, THE COMPUTER TUTOR can definitely get you going! Seniors enjoy a substantial discount at just $30.00 per hour. Looking forward to hearing from you.
Please call Ken at 604 271-4462 or Email Ken at thecomputertutor@telus.net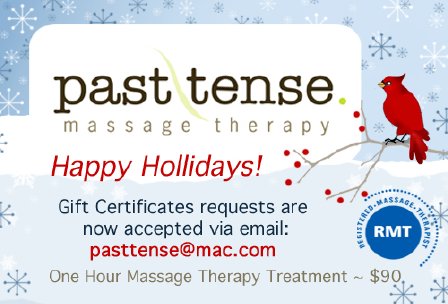 A HUGE SUCCESS!!

A great time was had by all (students and parents included!) at the Community Arts Council's fall "Pizza and Picasso" classes! Parents were treated to an evening out every two weeks while students enjoyed pizza, painted and learned about famous artists. The long wait list prompted an expansion of the winter session, beginning in January, to include Saturday night classes as well.
Five sessions on alternate Fridays or alternate Saturdays beginning in January are now accepting registration.
The Arts Council thanks The Arts Connection for donating space and supplies for these classes as their contribution towards supporting the arts in our community. Check out The Arts Connection's website at www.theartsconnection.org for registration information or call 604-241-0141.
Drawing and Painting classes for students aged 11 yrs and up will also be scheduled for the winter session. Watch the website for further information!

Web Site Development & Support
Web Design & Site Management
Internet Technology that works for you
w+1(604) 248 4343 m+1(604) 762 6921
www.pmcwireless.com


Need wedding favors or personalized ribbon?
Getting married soon?
Want to save money on your reception?
Shop online with specialtyribbon.com

woods & womersley
Holiday Decorators
a unique service for the season
Richmond Interior Decorator Sue Womersley and Floral Designer Lynne Woods are pleased to offer their clients their combined talents decorating for holiday events. It is always a busy time of year and whether you are having a family dinner or throwing a corporate party, we can simplify your life so you may relax and enjoy the festivities.

~ Winter Wonderland or Glamourous Modern Luxe ~
~ All the Trimmings or A La Carte ~
we offer floral arrangements; greenery, tree, mantle & stairwell decorating and even present wrapping!
December is fast approaching and we have limited appointments available, call today! 604-271-2699

Former Steveston Merchants (Knot Garden & Haven Home), Lynne and Sue welcome their clients to contact them with their visions of sugarplums…
Lynne@bluepoppyflowers.com event & wedding flower design
sue@stylestudiowest.com interior decorating & custom design
Lynne & Sue invite you to stop by and say hello!!!
Richmond Interior Decorator Sue
Womersley...
is pleased to announce the opening of her custom design studio to help you achieve the beautiful results you desire for your home or office. Sue sponsored the 2009 PNE Prize Home that was featured in BC Home magazine and is an accredited member of CDECA (Canadian Decorators Association) and serves as a Director for the BC Chapter Executive.
Sue invites you to stop by and say hello
style studio – OPEN HOUSE
suite 250 – 3580 Moncton Street, Steveston (the Hepworth Building) Saturday afternoon November 28
1:00 – 3:00 or welcomes you to book an appointment for a consultation. sue@stylestudiowest.com
www.stylestudiowest.com for more information.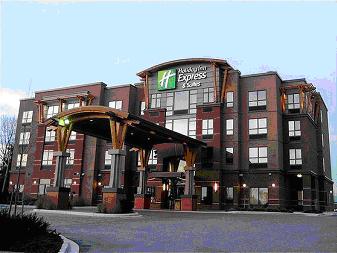 | | |
| --- | --- |
| | Winter at the NEW 'Holiday Inn Express & Suites Riverport' is a great time to get a spa suite, relax and reconnect, enjoy a movie or bowling, and a nice dinner out. At Riverport we have it all. For business or pleasure you can always count on the gracious hospitality and tremendous value added complimentary services at the Holiday Inn Express & Suites. |
Weekend getaway for our Richmond locals $95 a night, live it up. Book a Christmas Holiday Party or just take the elevator home! 'Keeping the holidays safe' rates for the season! NEW park & stay then use the Airport shuttle for your getaway !

Check us out, www.HIERichmond.com http://www.riverport.ca
Anna Smith
Holiday Inn Express Hotel & Suites
Riverport Entertainment Complex
10688 No. 6 Road,
Richmond BC V6W 1E7

www.HIERichmond.com
Direct: 604-248-8200 Tel: 604-241-1830
Cell: 604-505-1647 Fax: 604-241-1840
asmith@HIERichmond.com
Hop aboard our new 'Airport Shuttle'
Ask about our Park '&' Fly program
JOHN YAP PROVINCIAL MLA
JOHN YAP MLA for Richmond-
Steveston has moved his
constituency office. It is now located
at #115 – 4011 Bayview Street
Richmond, V7E 0A4

Enchanted Africa
30 Day CRUISE from Istanbul to Cape Town
November 11 – December 11, 2010



FREE Airfare from Vancouver
$3000 Savings off 2 for 1 Cruise Fare
from $6,999 per person
Gratuities included!



Contact Chris Boecker
For your FREE brochure
Ph: 604.338.9211
www.TRAVELBOECKER.com
Expert Travel Planning for Families & Singles
In your Community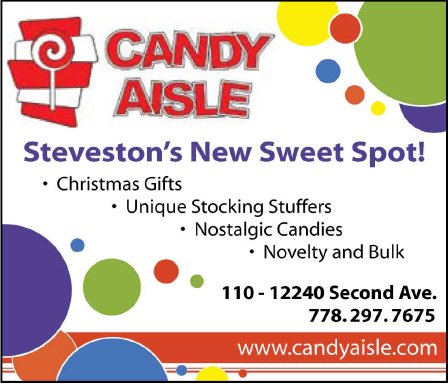 COOKIES WITH SANTA
Come to the Pierside Deli located at the fisherman Wharf from 12-3 December 6th for Coffee, hot chocolate, and cookies, get your picture taken with our Santa and get the picture emailed to your home all by donation to the Richmond Food Bank, we also are collecting non perishable food items, the coffee and hot chocolate sales for the week will also be donated to the Richmond Food Bank from Pierside Deli. So come one come all to support people in need it's a great thing this time of year.

www.movementstudio.ca
604-272-0607
gabriela@movementstudio.ca
THIS HOLIDAY SESASON GIVE THE GIVE OF DANCE
WINTER SESSION STARTING JANUARY 5, 2010
Creative Movement provides many avenues for expression. Movement experiences promote motor skill development and general body awareness, as well as basic learning skills such as listening, following directions, sequencing and problem solving,. It encourages individual and group cooperation, compromise and creative thinking. Creative Dance combines skill development and self expression. It can be learned at any age level and enjoyed throughout a lifetime. It helps in the development of the brain.
Classical ballet is the key witch opens the door to all other dance forms. Through the study of ballet, the student develops poise, balance, grace, strong muscles and coordination. Ballet enriches children with a sense of creativity, movement and self esteem that remains with them throughout their lives.The classes are specifically designed for the child's age.

BARK N' FLY
We go play while you're away!!!!
While you are working long hours and your dog is at home all day alone, we can arrange to pick up and deliver your dog back to you at home or office for a 2-3 hour adventure walk in an off leash park with a limited number of other dogs. You will notice a huge difference in your dog. While your dog is out walking, your dog is socializing, learning and playing while exercising in a fun and positive environment. We have been in business now for almost 5 years and come with great references. Please call or email to arrange an assessment and get your pooch involved!!!
I believe that your satisfaction should be guaranteed.
Call Joanne 604 277 4786 or mobile 604 351 0336
Email: mantie@shaw.ca
Website: www.barkandflypetcare.com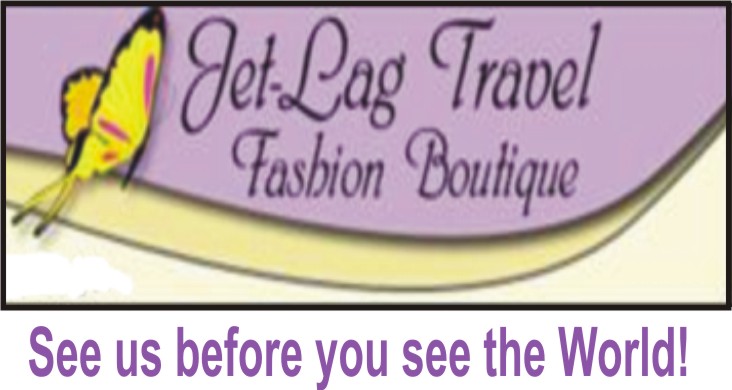 Fitting real women's figures since 1980. Cottons and travel wear year round, plus seasonal fashions from many Canadian designers. Featuring Ezze Wear, Woolrich, Columbia Sportswear, FDJ, Sun Moda, Onesole Shoes and Nikky.
Special Offers:
Woolrich Water Repellent Jacket Sale Reg. $89.95. Reg. 126.95
Select Winter Coats 30% off
Ezze Wear Click Diamond Apparel - buy 2 or more get 25% off
Sun Moda Shoes $20 off
Keep warm and dry with made to weather Vancouver rainhats and stylish caps plus Cozy Toes lamb's wool socks.
Travel Accessories from Lewis N Clarke and Baggallini. Open daily.
Jet-Lag Travel Fashion Boutique
#110-12031 2nd Avenue
Richmond, B.C. V7E 3L6
Tel/Fax (604) 277-3331
jet-lagtravelfashion@shaw.ca
www.jet-lagtravelfashion.com
LOVEABLE LABLELS
Labels that stick with your kids and their stuff!

EXTRA TOUGH, colourful and fun labels, perfect for labeling all your kids' stuff. Laundry, dishwasher and microwave safe!
Available in ♦ sticker labels ♦ iron-ons
♦ shoe labels ♦ bag tags

Personalize them with your child's name and a fun icon!

Holiday Packs now available for Christmas gifts!

Enter code 9942 in the coupon field upon checkout and 10% will be deducted from
your order (min order $50 before shiping and taxes) – this offer expires December 25, 2009

www.winnie.lovablelabels.ca
Email: winnie@lovablelabels.ca
PH: (604) 671.4432

ARTISAN SALE

Photo cards tiles and prints, baking jewelry Clothing
sheepskin moccasins soaps, lavender xmas decorations

Friday Dec 4 11-9 pm

3291 Broadway, corner of 4th & Broadway
Steveston
For more information : Donna at 604-275-4640

MULTI-AGE GROUP LICENSED DAYCARE
on Steveston Hwy.
Contact: Sonia
Gentle Steps Child Care
Owner/Manager
"Helping the Children of the Future, One Step at a Time"
604-285-1173 (Main)
604-551-9998 (Cell)
www.gentlestepscc.com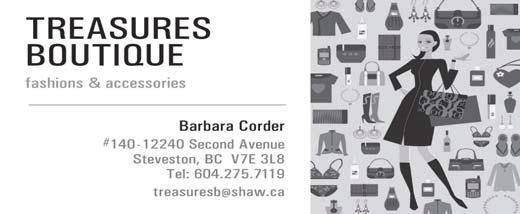 Saturday, December 5th
kicks off Treasure's Pre-Holiday Sale
& Steveston's 'Spectacle of Lights'
Enjoy our late-night shopping with hot cider and treats.
Sale ~ December 5th to 13th
25 - 50% Savings
Christine Phillips City Girl XCVI
Cactus Spy Pretty Woman Valenti
You'll find one-of-a-kind holiday & cruise wear, fabulous tops and separates,
& yoga wear, plus a sparkling selection of accessories and
locally designed and crafted jewelry.
In fact, you'll find that and so much more at Treasures. Indulge yourself in a
treat you can't resist ........ or perhaps choose a Gift Certificate
stocking stuffer for that hard-to-buy-for fashion diva on your list.
Thank you from Treasures for your continued support throughout the year, and wishing you and yours a safe and Happy Holiday Season.
A CHILD'S VISION OF THE OLYMPIC TORCH RELAY
The Community Arts Council of Richmond is looking for 100 grade 4 and 5 students to participate in a special project for the Olympic Torch Relay.
This project is open to elementary school children in grades four and five that are either attending a Richmond elementary school or Richmond residents attending school outside the district and is limited to 100 students.
We will be asking these participants to paint THEIR vision and design of the Olympic Torch Relay on a T-shirt. Once the designs have been painted and cured, they will be professionally displayed in our Artisans" Galleria in a special exhibition which will run January 23 – February 23 2010, and will be open for viewing, at no charge, to the participants, their family, friends and the general public.
The t-shirts will be theirs to keep following the exhibition. Participants must be available to paint the shirts during a 1 1/2 period on Sunday January 10th. 2010 and must comply with the rules and regulations as set out by Heritage Canada and Vanoc. These will be revealed once the applicant has been accepted.
The entry form is available for pick up at our Artisan's Galleria, 3651 Moncton St. in the village of Steveston BC or on our website which is www.richmondartscouncil.org, to locate the entry form and further information. Once completed, mail the entry from to CACR, #130- 3651 Moncton St. Richmond BC V7E 3A5. The successful applicants will be notified by email.
| | |
| --- | --- |
| | This project is the result of a grant received from Heritage Canada under the Olympic Torch Relay Initiative for the 2010 Winter Games – Special Projects component and as such is subject to guidelines set out by Heritage Canada and Vanoc. |


THE COMMUNITY ARTS COUNCIL OF RICHMOND
and the
ARTISANS' GALLERIA

Invite you to enter a wonderland of gift ideas for your Christmas shopping list.
The shelves are brimming with one of a kind works of art at great prices; here you will find something for everyone on your list, even for yourself. Every purchase you make will help to support this not for profit group who in turn support the artists and artisans of Richmond.
This year they have also brought in some well-priced goods from small producers whose merchandise fits in well with the fabulous pieces already in stock.
In addition, by purchasing a raffle ticket at the Galleria, you could win a beautifully decorated 5-foot tree valued at $325.00, with proceeds going to support the work that the Arts Council does. There are also second and third place prizes worth $150.00 and $100.00 respectively. Draw will be held December 19 so you can have the tree at home in time for Christmas.
So why fight the crowds in the mall, only to find the same old tired merchandise. Shop in the Village, support the Artisans; Galleria and the Community Arts Council of Richmond, and feel good about your purchase. From all of us to all of you we wish you the magic that is Christmas.
THE STONE HEDGE BED AND BREAKFAST
www.thestonehedge.com will be celebrating their 10th Anniversary as well as the Olympics in 2010.

We would like to extend a warm welcome to all those guests who will be staying in Richmond for the Olympics as well as those guests we look forward to meeting throughout the next year. We strive to retain the charm, grace and peacefulness of a old country home but also provide the luxuries of a modern hotel. Our guests have complete privacy with their own entrance and accommodations that are separate. We are available to recommend restaurants, shopping, tours and fun activities in Richmond.

Every guest and every season has memories for us and we would like to extend an special welcome to our guests for December. Our home is all decorated for the season, the eggnog is cold and the fireplace is warm. Perhaps you have stayed here before or are planning on having your own guests but need a place for them to stay, we also welcome them.

Come celebrate the closing of 2009 and the beginning of 2010. Richmond is ready for you and The Stone Hedge B&B is ready too. Come celebrate our 10th Anniversary and the 2010 Olympics. It's going to be party we will never forget.

Merry Christmas and Happy New Year from The Stone Hedge B&B. See you next year!
URBAN DANCE COMPANY
Home of the 2009 "Best Dance Instructor in Richmond" Award and "One of the Best places to Dance in Richmond 2009" Award.
At Urban Dance Co. dance lessons are life lessons. Through dance training, our students learn the intangibles such as Respect, Leadership, Goal–Setting, Perseverance, Pride, and Esteem. Surrounded in a "safe haven," and with positive reinforcement from teachers, children thrive physically, emotionally, and mentally.We offer classes for all ages and levels in a fun, friendly atmosphere, taught by an exceptional faculty. If you want to dance, Urban Dance Co. is the place for you.
Urban Dance Co. formed in August of 2001with an enrollment of over 100 students which continues to grow every day. Our New Facility contains 2 state of the art dance studio's both over 1200 Square feet, 1 contains a hardwood sprung dance floor, the other contains the new Rosco Adagio Dance floor-both studio's are equipped with Ballet Bars, Mirrors, and sound systems as well as closed circuit t.v. camera's so parents can view classes from our lounge area,our facility is air conditioned, and also hosts a kitchen/study room, faculty lounge, student lounge & dressing rooms, Parents waiting area, our administration office and the URBAN DANCE SHOP. the newest dance store in town, supplies all dancers needs from shoes to dance attire and anything else a dancer may require!
Our Faculty includes dancers from various disciplines of dance all highly qualified and skilled to ensure students are taught at the highest standard. They strive to bring out the best in all our students. Urban Dance Co. prides itself on having a top notch Faculty that not only teaches dance but lives it! Our Faculty continues to study train, and perform, ensuring that our students get the best from the world of dance, from teachers who are actual DANCERS and have a passion for teaching their love of dance and performance to students. Urban Dance Co. offers top quality instruction to children and adults in all levels from beginner to advanced. Our classes start at 3 Years of age. We also offer Competition classes and recreational classes. The faculty of Urban Dance Co. ensures all students are taught in a fun and friendly atmosphere, while learning, respect, dedication, and the love of dance. Our programs are designed for both competitive and recreational Dancers in all disciplines and levels. Students are encouraged to learn many forms of dance, to become "versatile" talents. We strive to ensure all our students enjoy every aspect of dance, to give them a passion they can love, to help create beautiful dancers, and teach them to be beautiful people. U.D.C. performance classes perform in our Annual December Review, as well as our grand year end recital which takes place at the Bell Centre for the performing Arts.
Urban Dance Co. also gives awards to all students who have completed 3 years of dance with us, as well as more than $3000.00 of scholarships a year to deserving and talented dancers.Urban Dance Co. has a class for you, with over 20 disciplines of dance. Choose one and come out and have some fun. Our exceptional faculty will ensure you enjoy your time with us!
Urban Dance Co. is the place where anybody can be a dancer! call us anytime at 604-277-4494 or email us at urbandanceco@hotmail.com #128-11121 Horseshoe Way, Richmond, British Columbia, V7A 5G7 -WWW.URBANDANCECO.COM
THE ARTS CONNECTION
Kindergarten and Grade One Readiness Program

Would you like your child to have an advantage when entering Kindergarten or Grade One in September? Are you applying for a coveted space in a private school and does your child need "that edge"? Then we have the program for you!
Beginning in January, The Arts Connection will offer a program for children who will enter either Kindergarten or Grade One in September 2010. In addition to high quality arts programming---which we do best! – Miss Shannon will be transforming her classroom into a hive of activity on Mon/Wed/Fri afternoons with a program that will include Letterland Phonics, French, Math and Science.
This program is an amazing addition to any child's existing preschool or kindergarten program and will give your child the tools they need for future success!
Early Learning---Register with the Specialists!
Do you have a two year old who is anxious to explore, learn and grow? Then check out The Arts Connection's specialized "preschool preparatory programs"!

"First Steps in Early Learning" is held on Tues and Thurs and will introduce your child to beginning phonics and French along with music, dance and visual arts activities.

"Young at Play" is held on Mon and Fri and encourages social interaction and creative play along with music, creative movement and visual arts.
ur classes were full in the fall, but some of the children are now moving up into our popular Paddington Station Preschool Program. Limited spaces are available for our winter session of these preparatory programs beginning in January 2010. Students registered also receive priority when applying for spaces in Paddington Station preschool for Sept 2010.
Call 604-241-0141 for registration information or check out our website at www.theartsconnection.org
Something to Celebrate?
Check out The Arts Connection's Birthday Party program! Our popular themed parties book up fast, so call well in advance to book a great event for your child's next birthday!


We set up, clean up and provide a facilitator who will program the entire two hour party and make the event enjoyable for parents too. Call 604-241-0141 for further information regarding party packages.




FUSION FITNESS STUDIO
| | |
| --- | --- |
| | Specializes in exercising using the Pilates reformer, cadilac, Wanda chair and the barrel. we also have circuit Pilates classes so you can add some cardio to your Pilates. My goal at fusion fitness is to build up your strength by building your muscle mass, gain flexibility that you loose as you get older or keep the flexibility that you have when you are young. |
Stretching also is a big part of Pilates with a bit of a difference strength stretching. You will gain a very strong core but also the rest of your body will be strong from your fingers down to your toes. Did I mention I like to have fun too. We now have circuit reformer classes at fusion and will be starting a boot camp at the end of March, for more info they can call us at fusion fitness studio.
www.fusionfitnessstudio.com
604-275-1110

STEVESTON VILLAGE YOGA, offering classes in Hatha Yoga, Prenatal Yoga, Qigong, Bellydancing and Meditation. Our address is 12151 First Avenue, Steveston, B.C, V7E 1M3. Our phone numbers are 778-238-1111 and 604-448-8839

South Arm United Church gym (corner of No. 3 Road & Steveston Hwy)
M/W 5:00pm
T/Th 5:30pm
Sat 8:30am
St. Albans Anglican Church hall (corner of St. Albans and Bennett Roads)
M/W 9:30am
M/W 6:40pm
Sat 10:00am
Richmond Jazzercise class pass good at any of the ten (10) classes a week offered! Call Janice at (604) 813-3990 or email: Janice.jazzercise@shaw.ca

Your path to beauty, serenity and long-lasting health. - Escape to Tao Day Spa and experience a unique and nurturing blend of exotic spa rituals from the Pacific Rim. Rejuvenate your body and mind with our exceptional spa services performed by fully licensed and certified estheticians using the finest handmade organic products. Specializing....
*Organic facials with the award winning Eminence skincare line, treatments to help with various skin types, including rosacea, eczema, and acne.
*Exotic pedicure treatments with Thai Reflexology*Thai-Indonesian body massages
*Five star safety rating Bio Sculpture Gel Nails
*Certified to assist clients with ingrown nails, tyloma, foot care for diabetes
Certified with the International Pedicure Association (IPA)
*High quality sterilization program using hospital grade disinfectants
*Certified for Infection Control
*Member of the Cosmetology Industry Association of BC
*Private parties (Co-orporate, weddings, Christmas, and special group events)
Manicures • Pedicures • Facials • Thai Body Treatments Eminence Organic Skincare • BioSculpture Gel Nails • Certified for Infection Control
115 - 3900 bayview street richmond, BC
(next to BLENZ Coffee in Steveston Village)
telephone: (604) 277-9821
Open 7 days a week 10am - 6pm
Visit our website at www.taodayspa.com
H2O HAIR & NAIL CO
H2O HAIR & NAIL CO.
230 - 12240 SECOND AVE.
RICHMOND (STEVESTON) BC
V7E 3L8
604 241 5593
www.h2ohairnail.com

COOL SECRET SPA LASER CLINIC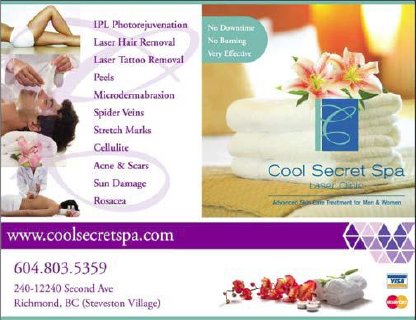 240 12240 Second Ave
604 803 5359
www.coolsecretspa.com
By appointment only.
| | |
| --- | --- |
| | The Steveston Cookie Company specializes in beautifully decorated custom cookies for all your special events.New seasonal cookies for order. Visit us at our website: |

www.thestevestoncookiecompany.com
The Steveston Cookie Company
778-297-1597
STEVESTON VILLAGE ORTHOPAEDIC & SPORTS THERAPY CLINIC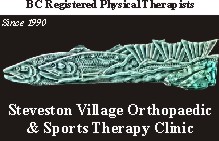 102 - 3811 Chatham St., Tel/Fax 604-241-0933