Steveston Museum and Post Office
---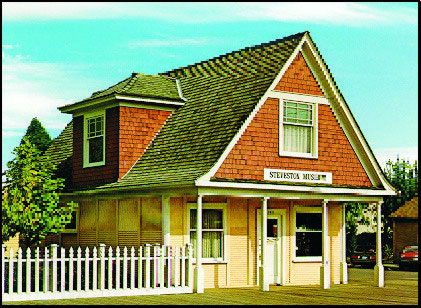 In the heart of Steveston Village at 3811 Moncton St. and surrounded by board sidewalks reminiscent of the planked roads and sidewalks that existed here at the turn of the century, this heritage building is a fine example of early prefabrication.

Built in four sections, it was erected on this site in 1905 as the area's first bank. Entering the museum, visitors will find the original bank manager's office as well as displays reflecting the old general stores that served this growing community in the early 1900's.

Upstairs, the dining room and bedroom represent the living quarters of the earliest bank staff who stayed here and doubled as night watchmen and caretakers.

Japanese and Chinese artifacts reflect the presence of these cultures in Steveston and photo displays capture some of the heritage of one of the oldest fishing harbours on the West Coast of Canada.
The Steveston Museum has completed a history exhibit called "STEVESTON RECOLLECTIONS: HISTORY OF A VILLAGE" which is now available online in the Community Memories program of the Virtual Museum of Canada website . It includes 197 pictures and text in a chronology of Steveston from its beginning to the Tall Ships Festival in 2002. It was done entirely by the local museum volunteers for the Canadian Heritage Information Network (CHIN), an agency of the federal Department of Canadian Heritage. Everything you need to know about the village history at your fingertips. (Click Here)

---
Sharing the space on the main floor is a working post office operated by the Society. There is no admission charge but donations are always welcome.

The Steveston Museum and post office is open year round Monday to Saturday from 9:30 - 1 pm And from 1:30 - 5 pm.
Phone (604) 271-6868 for information.